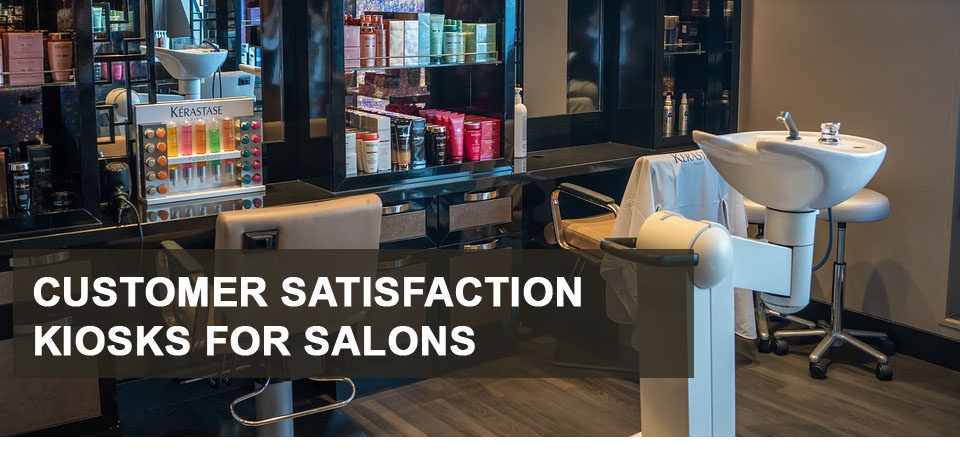 Salon Customer Experience Kiosks
Customer satisfaction has become a top priority for many businesses. Providing products and services that please customers is vital for the growth of any business, including Salons. How happy are your customers? Who is your best stylist? What aspects of your salon do your customers like best? Why do some customers come back time and again while others don't? At CXLogic we provide customer feedback systems that answer these questions and more. Our systems are engaging and dynamic leading to high response rates with actionable insights.
Why Kiosks Should be Installed in Salons
Salons provide essential services to customers including haircuts, pedicures, massage, aromatherapy, facials, and much more. Your customers have experiences with the services you provide, the employees who provide the services, and the atmosphere of your salon. Collecting customer feedback on these areas is important for improving customer satisfaction and growing your business. CXLogic's customer feedback Kiosk is ideal for your business for the following reasons:
> Allows your business to listen to customers likes and dislikes.

> Satisfaction with services, products, employees, and equipment.

> Quick and efficient feedback tool as customers only need to press a few buttons.
Benefits of Customer Feedback
As a business owner, you want customers to visit your Salon more than your competitor's. And customers who are happy and satisfied with your Salon will return as loyal customers, as well as, make referrals to friends and family. So how can customer feedback make your business stand out from the rest?
> In-Depth Analysis: Collect feedback efficiently and timely based on in-the-moment customer experiences. Learn about purchasing patterns and trends, likes and dislikes, and product preferences. Our team at CXLogic will help you analyze the data and then chart a plan of action to grow your customer base and improve key performance metrics.

> Resolve Complaints: Our kiosks are programmed with action alerts to notify staff when a customer is unhappy with their experience. Thus, you can resolve complaints quickly to ensure all customers walk out of your Salon satisfied with their customer experience.

> Customization: Our kiosks are highly customizable to include your logo, colors, fonts, and images. Survey questions are specifically designed for your business needs and include multiple response set options such as professional emojis, animated emojis, or word choice. The kiosks are also available in multiple languages, so you can track customer satisfaction among individuals from diverse backgrounds.

> Quick and Easy: CXLogic kiosks are quick and easy to use. Customers answer a benchmark question and are then asked if they would like to provide additional feedback. If no, they are done in 10 seconds or less. If yes, they can provide the additional feedback on the kiosk, their phone, or their computer. It's that easy.
Why You Should Choose CXLogic
What makes CXLogic stand out as the go to customer feedback solution? Our talented team has multiple years of experience in customer experience and analytics. We will explain each aspect of data collection in detail, install the kiosk, and provide remote control customer service including maintenance, survey changes, and updates to your kiosk. Additionally, CXLogic offers the following:
> Samsung Tab A tablets with dynamic themes and imaging.

> Anti-theft security includes locking mechanisms for both the tablet and stand.

> Tablets run on either battery or electrical power.

> Customer experience dashboard with advanced analytics.
Collect feedback quickly and easily to boost your business's growth by equipping your Salon with a CXLogic Customer Feedback Kiosk. Contact us at info@cx-logic.com and let's grow your customer base and increase profitability together.