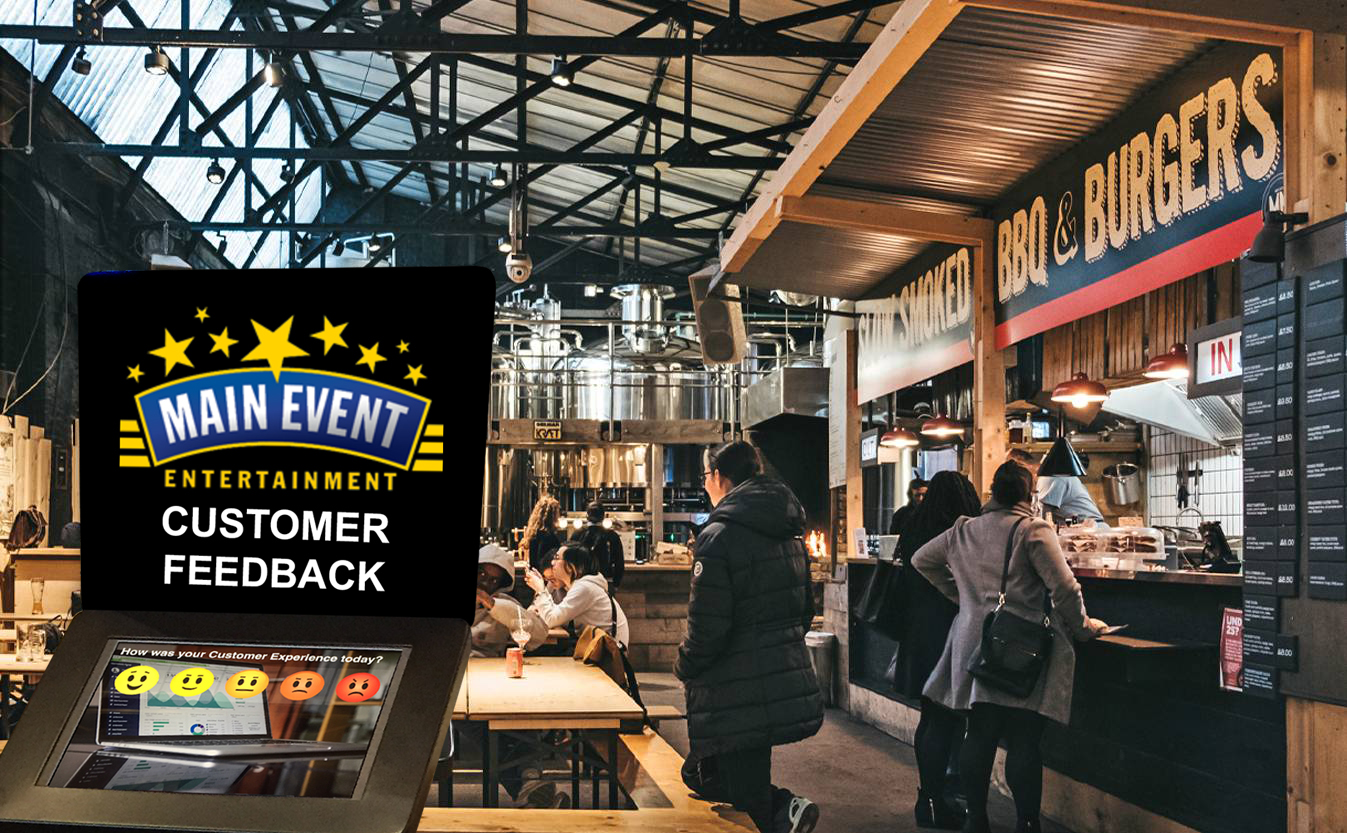 Products & Services
Sleek and classy design along with dynamic themes make the customer experience engaging and enjoyable on our products. Designed to optimize impact through data-driven customer feedback and decision-making, our products enable users to drill-through the data to identify actionable insights on key performance metrics. Standardized and customized surveys are available to engage your customers and provide actionable data to grow your organization. Our products are easy to install, simply plug in and connect through Wifi or data plan.
Ready, set and collect fast feedback!
Customer Experience Kiosk
Retailers across various industries strive to develop new ways to offer their customers extraordinary experiences. As a result, many are turning to self-service options that can enhance the in-store experience while maintaining stability and productivity. That's where our digital Customer Experience Kiosk comes into play.
We help you drive more traffic, increase sales, reduce customer support costs, and collect purchasing data to optimize product and sales performance. Apart from this, we also prioritize a modernized customer experience to facilitate your customer's needs.
Our Portable customer experience Kiosks are ideal for engaging customers and drawing valuable insights. CXLogic offers different types of Kiosks for varied industry verticals. With our extensive experience in this field, we have developed specialized Customer Satisfaction Kiosks.
Our Customer Experience Kiosks are dynamic and flexible allowing for customization that is unique to your needs. Customers are asked to rate their overall experience, share opinions about areas for improvement and prompted to share feedback on the quality of service, and atmosphere. We evaluate and measure key data points to create solutions that can help maximize your profits and grow your customer base.
You can choose different survey formats, customize the look and feel of the Instant Customer Experience Kiosk, select different types of questions and response sets, and add multiple languages for increased accessibility and participation. Our systems enable you to source feedback from multiple touch points within your store. Along with real-time feedback, our email action alerts help you to resolve problem issues faster and turn unhappy customers into happy customers.
Role of Customer Experience Kiosk
Add In-depth Details: Our kiosk places the entire company and product details at the customer's fingertips. It allows them to explore and compare benefits, features, and prices, based on their preferences and familiarity with the brand.
Customized Products and Increased Order Value: With our instant Customer Experience Kiosk, your customers can access various products, options, and promotions, regardless of store signage. It enables customers to check customization options at their own pace, which leads to increased engagement and sales.
Help Staff Answer Questions: Our interactive kiosk provides an abundance of information and allows customers to find answers to any questions they have regarding a product quickly and efficiently.
Enhanced In-store Efficiency: As customers can easily be deterred from buying while waiting for staff to be available, our intelligent Customer Satisfaction Kiosk can help tackle these issues for you. It provides quick answers through easy navigation which enhances the overall customer experience.
Benefits of a CXLogic Customer Experience Kiosk
Reduction in Operating Costs: Our real-time Customer Experience Kiosk takes orders, serves customers, and provides payment options freeing up staff to focus on other tasks.
Increase in Sales & Consistent ROI: Our customer experience kiosks attain a more positive experience by enabling customers to make orders quickly, automatically, and efficiently.
Simplification of Payments: Our well-designed kiosk simplifies the payment process by offering complete service for payments integrated with your company's ERP and financial software solutions. It can be customized to accept cash, credit, or ATM cards, resulting in quick services with reduced line queues.
Competitive Advantage over the Competition: With a CXLogic Customer Experience Kiosk you will gain a competitive advantage over your competition. Our sleek and classy designs and easy navigation system combined with your company's branding will distinguish your business from all others leading to increased customer loyalty, more referrals, and higher rates of positive reviews.
Reduce Waiting Time (and Queues): Self-service kiosks have changed the customer experience in almost every sector. Through enhanced functionality and convenient services our kiosks eliminate long and tedious waiting queues that customers often experience.
Redefine Engaging Customer Experience with Us
Enhancing customer service is the primary point of the CXLogic Customer Experience Kiosk. This strategy works exceedingly well in retail, financial, hospitality, financial, and other industries. We strive to leave behind the idea that technology can't deliver personalized experiences. With our state-of-the-art Customer Experience Kiosk, you will see your business thrive as your customer base grows through increased referrals, better reviews, and improved customer loyalty.
Advantages of CXLogic Instant Customer Experience Touch Screen Kiosks
Self-service Kiosks offer numerous benefits. Let's take a look at some of the top advantages of our products.
Adaptable: Depending on your specific needs, Customer Experience Kiosks can be adapted to meet emerging business requirements. It not only helps improve customer experience and satisfaction but Kiosks can also be used to measure employee performance. Depending on the kind of tasks assigned to your Kiosk, the data and information offer valuable insights into your operations.
Cost-Effective: Kiosks are cost-effective alternatives for performing simple tasks such as ordering or collecting customer feedback. It not only saves time and effort but also provides businesses the opportunity to grow their customer base and multiply profits.
Improves Customer Satisfaction: Kiosks improve customer satisfaction. How? Asking customers about their experiences creates a sense of belonging for the customer leading to higher levels of satisfaction and happiness. Satisfied customers are loyal customers and loyal customers make referrals to friends and family. With a scalable and flexible interface, you can easily make updates, gather additional feedback from customers, and store customer contact information.
Why Choose CXLogic?
CXLogic is your one-stop solution for customer experience feedback. Our sleek and classy Customer Satisfaction Touch Screen Kiosks are customized to your needs and offer solutions that foster growth for your business. By engaging customers, our products make customer feedback accessible and easy. Additionally, we deliver powerful analytics in real-time leading to enhanced growth and increased profitability for your business.
Based on detailed analysis of your business requirements, our experts provide solutions tailored to the specific needs. We use different survey formats, platforms, language options, and branding to obtain high response rates and actionable insights. Knowing what makes your customers happy or unhappy is critical to setting your company apart from the competition.
Moreover, our products are easy to install and work on both battery and electrical power. Our Kiosks are portable and can be located at different entry and exit points to maximize response rates. The signage is customized with your brand including logo and imaging. We also provide a secure, anti-theft locking component to keep the tablet secure at all times to prevent theft. Why wait? Make a difference to your business with a CXLogic customer experience touch screen Kiosks. To install a Kiosk, get in touch with us now at info@cx-logic.com. Our representatives will guide you through the process and offer the best solutions to grow your business.
OUR KIOSKS








Kiosk
Flexible and adaptable to collecting data at various touch points.
The portability of the Kiosk allows it to be moved to different locations within your business to maximize responses.
Runs on both battery and electrical power.
Signage can be branded to your business or use our standard CXLogic branding.
Secure anti-theft locking component for the tablet within the stand.