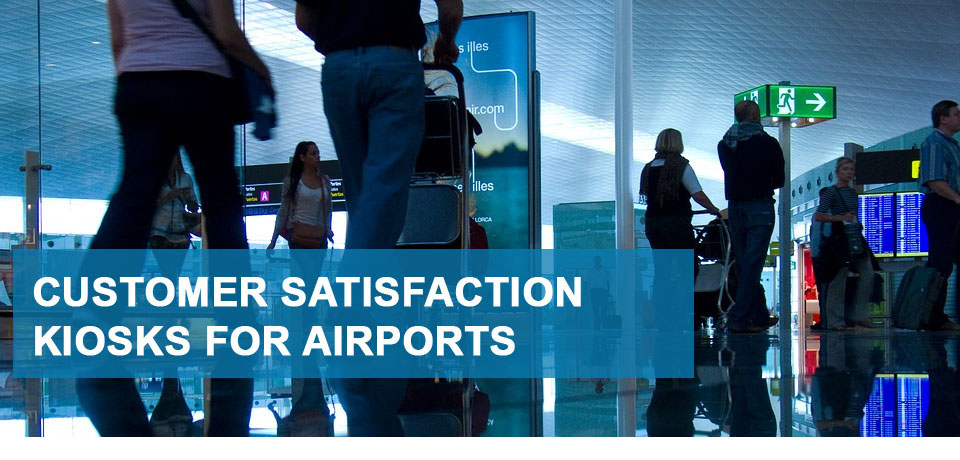 Airport Customer Experience Kiosks
Airport customers have experiences at multiple touch points throughout the airport including ticketing, check-in, security screening, boarding, and baggage claim to name a few. Obtaining feedback from customers regarding their experiences is critical for achieving the airport's mission. Unfortunately, as customers travel in and out of airports they are, strictly speaking, anonymous.
CXLogic's Airport Passenger Feedback System (CFK) engages customers to provide feedback based on their in-the-moment experiences. Through a blend of data science and state-of-the-art technologies our system provides an easy and effective method for collecting feedback with actionable insights to drive decision-making.
Additionally, our system opens up access for all customers to provide feedback on their airport experiences. This feedback is continuous providing a 'pulse' of customer satisfaction for the airport.
The Need for Passenger Feedback
CXLogic's portable Airport Customer Satisfaction Kiosks, Terminal Device can be set up in various locations within an airport. Place one in front of a restaurant, bathroom, check-in area, security check-point, and departure and arrival gates.
Enables airlines and airport staff to listen to their customers.
Note customers' comments about their flying and check-in experience, staff and airport facilities, and more.
Quick process allows customers to easily interact with the kiosk.
Companies can track staff performance.
Tailor future surveys according to customer preferences.
Benefits of Passenger Feedback
Customer satisfaction is key in ensuring that your business flourishes. The same applies to airports as well. An important factor in rating airports is how well they satisfy their customers. A self-service kiosk is a quick and convenient way of measuring customer happiness.
Customizable: Airport kiosks can be tailored to your business' needs. Question and response sets are interchangeable. The Kiosk is branded with airport logo, colors, and imaging. Multiple language options are available to increase access for airport customers.
In-Depth Analysis: Self-service kiosks provide insight into the customer's thoughts and experiences. They can inform you of whether customers are satisfied with immigration officials, how smooth the transfer process was, and whether they faced any issues or inconveniences at security check-points.
Resolve Complaints: Self-service kiosks identify problem areas allowing airport staff to resolve complaints quickly and efficiently.
Pocket-Friendly: Self-service kiosks are a cost-effective method of collecting customer feedback and improving overall customer satisfaction.
Why You Should Choose CXLogic
CXLogic combines data science with state-of-the-art technology to bring you a customer feedback system that is unparalleled in its ease of use, design, and analytics.
Our self-service kiosks are sleek and classy and branded to your business.
They are also lightweight and easily moved to different locations within the airport.
Our kiosks operate on both battery and electrical power.
Anti-theft technology with locking mechanisms for stand and tablet.
Email action alerts to staff identifying service areas with low ratings.
Dashboard reporting of benchmark question and key performance indicators.
Cache storage of customer contact information.
Multiple language options for increased access for non-English speaking customers.
Our team of data scientists will work with you to ensure you're getting high response rates with actionable insights.
Imagine a CXLogic Kiosk located at a boarding gate. As an airport customer getting ready to board my flight, I quickly engage with the Kiosk by answering the benchmark question: How was my Airport customer experience today? Then I agree to provide additional feedback and provide my cell phone number. I receive a text message with a link to the survey as I'm boarding the plane. I get to my seat and click on the survey link where I'm asked about my satisfaction with the boarding gate to include cleanliness, seating capacity, announcements, friendliness of staff, and boarding process. I complete the survey before the plane taxis down the runway.
That's Powerful. That's Impactful. That's CXLogic.
Your business deserves nothing but the best. Contact us at info@cx-logic.com to learn more about our best-in-class Customer Feedback Kiosks.