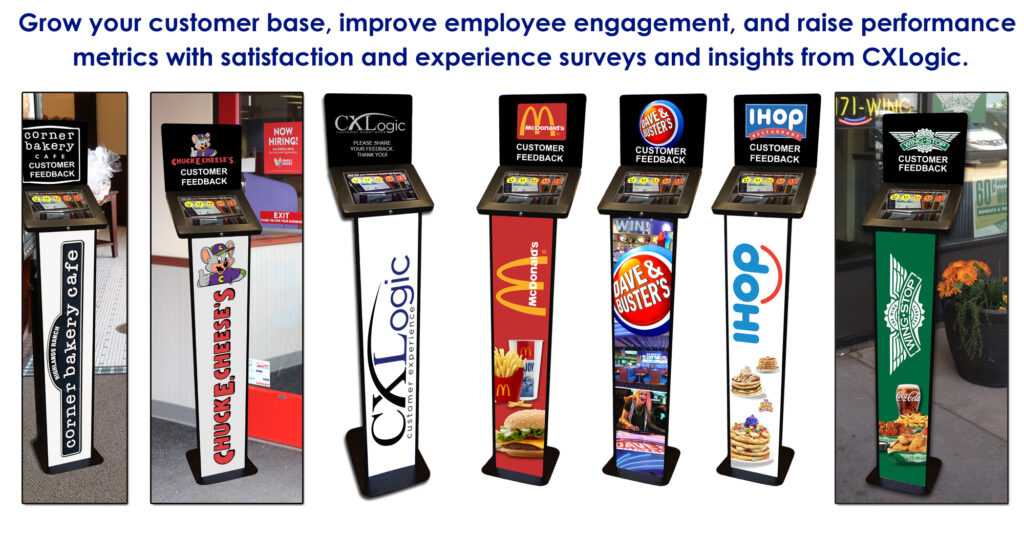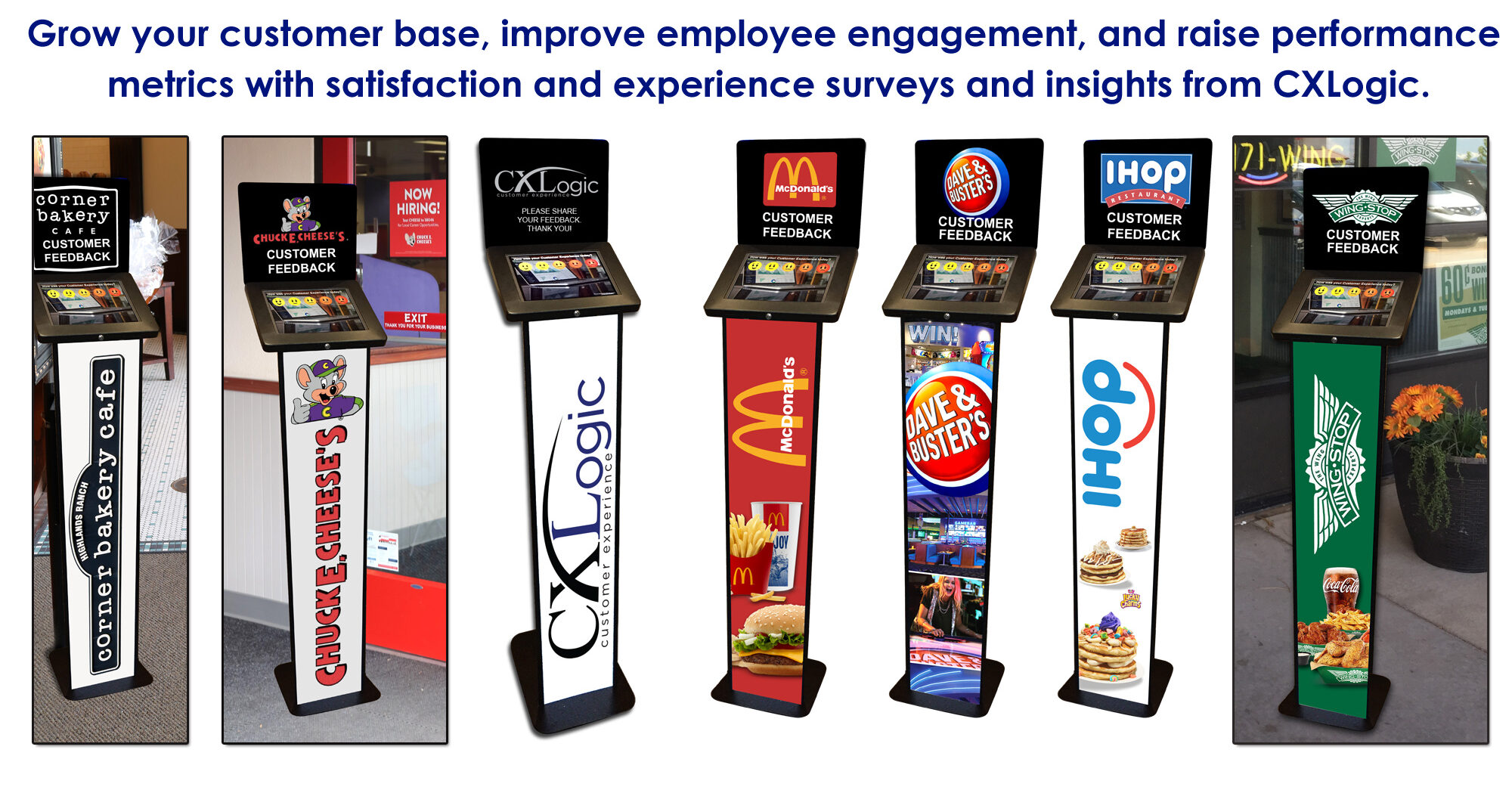 Restaurant Customer Experience Kiosks
Customer Feedback Kiosks for Restaurants – Trying to improve customer experience at your restaurant? Portable customer feedback Kiosks are ideal for engaging customers and drawing valuable insights. CXLogic offers different types of Kiosks for varied industry verticals. With our extensive experience in this field, we have developed specialized Restaurant Customer Satisfaction Kiosks.
Our Restaurant Customer Experience Smiley Kiosks are dynamic and flexible allowing for customization that is unique to your restaurant. Customers are asked to rate their overall dining experience, share opinions about areas for improvement and prompted to share feedback on the quality of food, service, and atmosphere. We evaluate and measure key data points to create solutions that can help maximize your profits and grow your customer base.
You can choose different survey formats, customize the look and feel of the Instant Restaurant Customer Experience Kiosks, select different types of questions and response sets, and add multiple languages for increased accessibility and participation. Our systems enable you to source feedback from multiple touch points within your restaurant. Along with real-time feedback, our email action alerts help you to resolve problem issues faster and turn unhappy customers into happy customers.
Advantages of CXLogic Instant Customer Feedback Kiosks for Restaurants
Self-service Kiosks offer numerous benefits. Let's take a look at some of the top advantages of our products.
Adaptable: Depending on your specific needs, Restaurant Customer Experience Kiosks can be adapted to meet emerging business requirements. It not only helps improve customer experience and satisfaction but Kiosks can also be used to measure employee performance. Depending on the kind of tasks assigned to your Kiosk, the data and information offer valuable insights into your operations.
Cost-Effective: Kiosks are cost-effective alternatives for performing simple tasks such as ordering food or collecting customer feedback. It not only saves time and effort but also provides businesses the opportunity to grow their customer base and multiply profits.
Improves Customer Satisfaction: Kiosks improve customer satisfaction. How? Asking customers about their experiences creates a sense of belonging for the customer leading to higher levels of satisfaction and happiness. Satisfied customers are loyal customers and loyal customers make referrals to friends and family. With a scalable and flexible interface, you can easily make updates, gather additional feedback from customers, and store customer contact information.
Why Choose CXLogic?
CXLogic is your one-stop solution for customer experience feedback. Our sleek and classy Restaurant Customer Feedback Kiosks are customized to your needs and offer solutions that foster growth for your business. By engaging customers, our products make customer feedback accessible and easy. Additionally, we deliver powerful analytics in real-time leading to enhanced growth and increased profitability for your business.
Based on detailed analysis of your business requirements, our experts provide solutions tailored to the specific needs of your restaurant. We use different survey formats, platforms, language options, and branding to obtain high response rates and actionable insights. Knowing what makes your customers happy or unhappy is critical to setting your restaurant apart from the competition.
Moreover, our products are easy to install and work on both battery and electrical power. Our Kiosks are portable and can be located at different entry and exit points within your restaurant to maximize response rates. The signage is customized with your restaurant's brand including logo and imaging. We also provide a secure, anti-theft locking component to keep the tablet secure at all times to prevent theft. Why wait? Make a difference to your business with a CXLogic customer feedback system. To install a Kiosk at your restaurant, get in touch with us now at info@cx-logic.com. Our representatives will guide you through the process and offer the best solutions to grow your business.