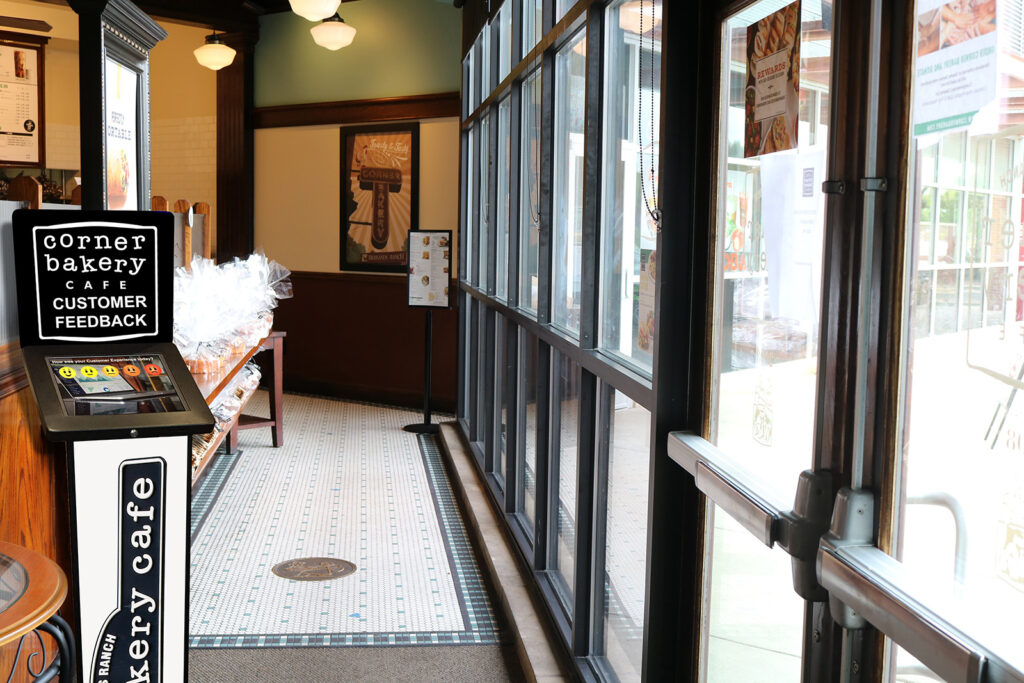 Bakery Customer Experience Kiosks
Do you run a bakery and wonder how your customers are feeling about their experiences? Now you can know in-depth information about your customers personal experiences with a CXLogic Bakery Customer Feedback Kiosks (CFK), Terminal Device. Regardless of whether you are a small business owner or the CEO of a chain of bakeries, customer satisfaction should be your number one priority. Our kiosks serve as efficient tools to collect feedback to grow your customer base and improve business metrics. After all, satisfied customers are loyal customers and loyal customers promote your business to friends and family.
How a Kiosk Can Help your Bakery
You may be wondering: how can a kiosk help your bakery? Your Bakery is your business and your livelihood. Knowing how your customers feel about their experiences at your Bakery provides you with essential information for making improvements to increase customer satisfaction and staying ahead of the competition. A customer feedback kiosk can help you in many ways including:
Increased customer satisfaction and happiness as your customers will leave your bakery happy that you took the time to listen to their feedback—both positive and negative.
Providing a method for compliments about your staff, the products you sell, and the equipment you use. Compliments boost staff morale and increase workplace happiness.
Determining the likes and dislikes of your customers.
Collecting customer contact information for targeted marketing campaigns.
Benefits of Customer Feedback
Customer feedback plays a key role in growing your customer base and improving key performance metrics. Additional benefits include:
In-Depth Analysis: At CXLogic, we provide you with kiosks to collect feedback, as well as, interactive dashboard reporting to analyze the feedback. Taking into account the complaints and compliments listed by your customers can help you chart a plan of action to grow your business.
Resolve Complaints: Customer satisfaction kiosks can help you resolve complaints efficiently and quickly. We can set up email action alerts to inform you when a customer has provided low service or product ratings.
Time- and Cost-Effective: Kiosks can save you both time and money. You can install a kiosk at the door for customers to provide feedback immediately based on their in-the-moment experiences. Your customers only need to press a few buttons to register their feedback.
Customizable: Our kiosks are highly customizable to your business's brand. This includes logo, imaging, colors, fonts, and themes.
Why Choose CXLogic
CXLogic's Bakery Customer Satisfaction Kiosks (CFK), Terminal Device blends data science with state-of-the-art technology to make customer feedback accessible, easy, and timely for your customers. Combine this with interactive dashboard reporting and you have essential customer information in real-time. In addition,
Our kiosks use Samsung Tab A tablets with dynamic themes and imaging.
Anti-theft security includes locking mechanisms for both the tablet and stand.
Tablets run on either battery or electrical power.
Our talented team has multiple years of experience in customer experience and analytics. We will explain each aspect of data collection in detail, install the kiosk, and provide remote control customer service, maintenance, and updates to your kiosk.
To learn more about CXLogic's Customer Feedback Kiosks and how they can help your business, contact us at info@cx-logic.com today. Take your business to new heights with CXLogic.